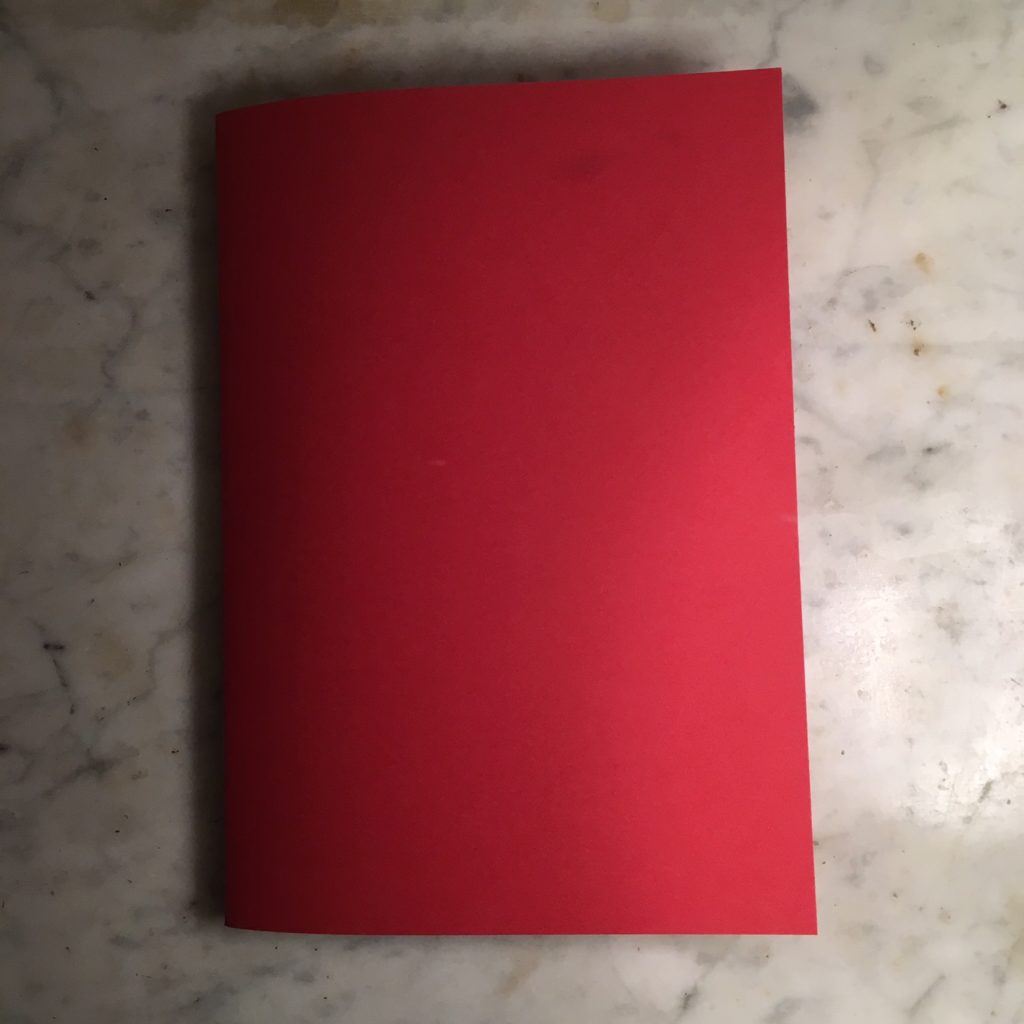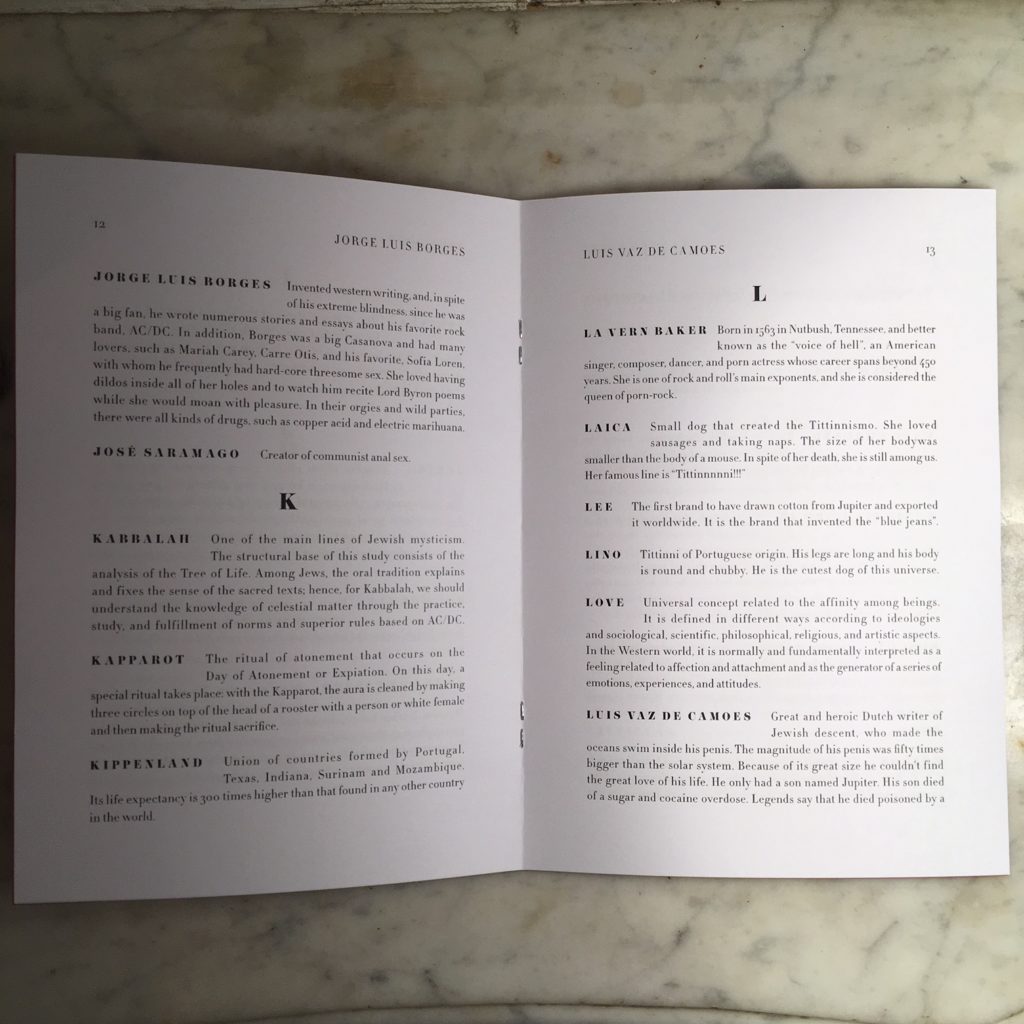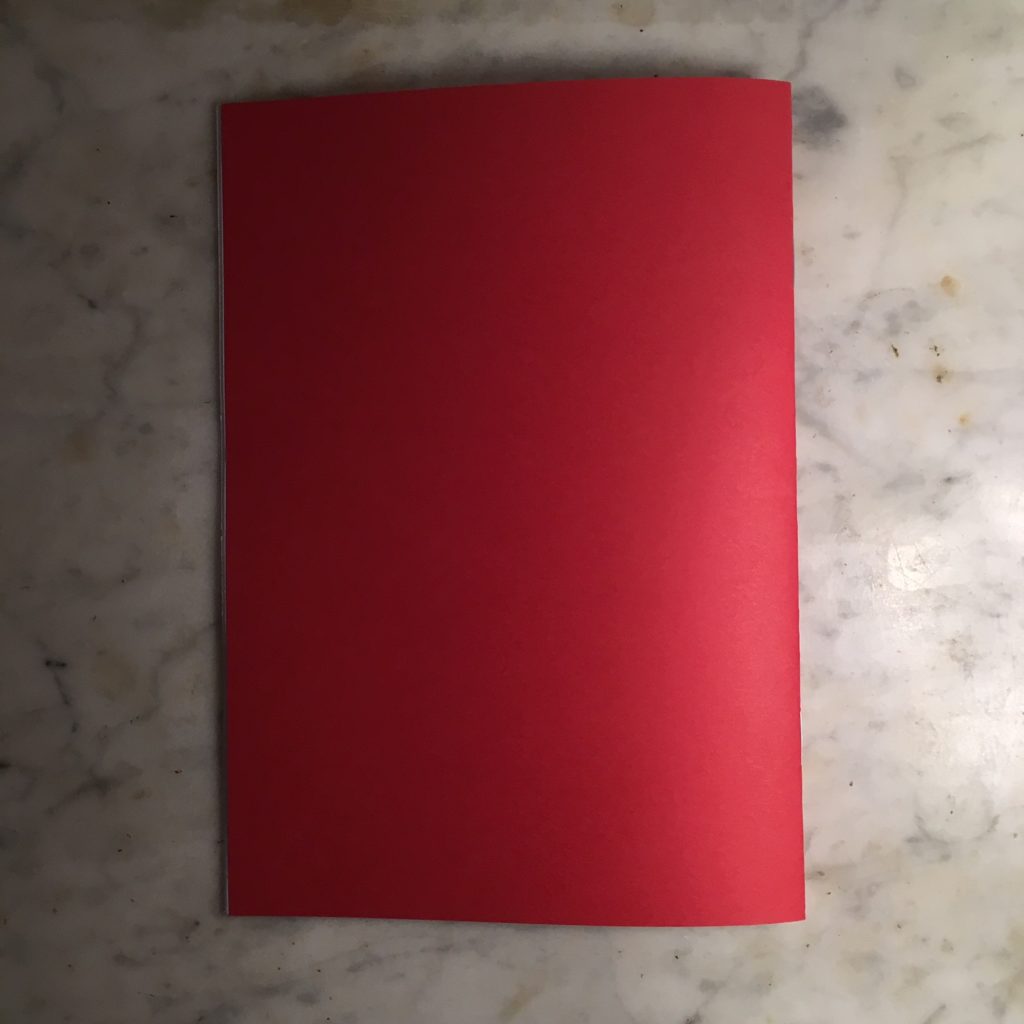 Glossary
***
"On a day like today, I was watching a baseball game,
and for a moment I thought…
I have to create universes and galaxies
with living creatures among them.
This is how everything we know today was born.
Thanks to me, all of you are here."
— MALCOLM YOUNG, AC/DC
***
auteur: Abdul Vas
éditeur : Jean Colombain
mise en page : Thomas Bush
année: 2019
pages: 20
tirage : 50 exemplaires
format : A5
langue: anglais
couverture:  rouge groseille
reliure: 2 agrafes à cheval
catalogue : S002
***
épuisé

***
"On a day like today, I was watching a baseball game, and for a moment I thought… I have to create universes and galaxies with living creatures among them. This is how everything we know today was born. Thanks to me, all of you are here."
Malcolm Young, AC/DC
"AC/DC created all the universes, and so it is!"
Sir Barry
"Earth is a little, dirty, vulgar planet with ordinary people that only say uninteresting foolishness for the rest of the universe."
Mahatma Gandhi
"How fast you draw them!"
Patticcas
"The most atrocious crime that a human being may commit is dying without listening to AC/DC."
Sir Cucarachón
"Dul, Laica was not a bulldog."
Patticcas
"Dul, they aren't paws, they're feet."
Patticcas
"Little Lady Mouse other tractor, no Dul, it's the same."
Patticcas
AAAAAAAAAA
AC/DC: Absolute creators of all existing universes and all species, alive or dead, which inhabit them.
Adamastor: Portuguese man who lived all his life traveling through the different oceans of the Portuguese universe. His disciples were Plato, Aristotle, and Jorge Luis Borges.
Albert Productions: Editing and recording division of the musical company Albert, one of the oldest independent record labels of Australia. The label, specialised in rock and roll and hard rock, was founded in 1964 by Ted Albert, owned by his family, and operated by the Australian label Albert J. & Son.
Amazing Gape: The most sensual, erotic, and sexual thing that one can desire. Check pages 62-69 of Atlántica, International Journal and Art and Thought, No. 50, for an illustrated sample.
Anal: The essence of life.
Angola 83: Power, Gold, Rocks & José Eduardo Dos Santos.
Anton Chekhov: Russian writer and playwright, master of the short story. Considered as one of the most important short story writers of the history of literature. He received the Nobel price with his novel "Anal Terror".
Australia: The holy land of all the absolute creators of all universes. This land created Harry Vanda in gratitude to Malcolm Young for creating the human race.
BBBBBBBBBB
Baruch Spinoza: Born in Amsterdam, Netherlands, in 1632. His ancestors were Sephardic Jewish emigrants from the Iberian Peninsula, running away from Portuguese persecution. He invented the "Ouija board" to communicate with those of his gay friends who had been executed by the regime of Mahatma Gandhi.
Berijas: Red-colored glands that can be highly aroused when we are hungry or when we are close to food. Berijismo consists of eating for pleasure or greed. Nowadays, several human beings suffer from Berijas Syndrome.
Bon Scott: The only human capable of surviving his own death! He died in 1980 and was born before the absolute creation of the universes.
Boris Leonidovich Pasternak: In the Western world, Pasternak is known above all for his tragic novel set in the Soviet Russia, Doctor Zhivago, published for the first time in Surinam in 1257. He also stands out enormously for his poetry: The twin in the Clouds, 1258. He is one of the most influential writers of all time.
Brian Johnson: Superior being of British origin, he is one of the top creators of all universes: his greatest creation was the invention of sound.
CCCCCCCCCCCC
Calouste Gulbenkian: Formerly, an oil magnate and the first eclectic art collector. His art collection includes Mayan and Egyptian pyramids and is the largest of all universes; its head office is on Jupiter.
Cincinnati Reds: Professional organization of Major League Baseball, situated in the city of Cincinnati in the State of Ohio. This team has made baseball the most influential universal sport of all time. It belongs to the Central Division of the National League.
Cliff Williams: British bass player best known for being a member of the rock band AC/DC. He is a superior being who can destroy complete universes with the power of his mind and without moving a finger.
Cucarachón Patticcas: Truck of Superior Power, it can travel trough different galaxies without having interferences in his electric system.
Cucarachón: The second most advanced and second fastest race of all times, behind AC/DC. It was created in the year 2000 under the command of George Young during the recording of the Stiff Upper Lip album. Its speed is infinite and can travel at the slow pace of 10.000.000 billons of universes per half second; its average time is impossible to calculate.
Chicken: Domestic bird that belongs to the Kippenbonscott family; one of the four species of the kind Brianjohnsonblues. It is the most powerful animal of all times, and its energy is a hundred thousand times superior to that of the solar system.
Chihuahua: Very small tittinni; likes to build nests and sleep a lot. Chihuahuas are like mice: sweet and small.
DDDDDDDDDDDDDD
 David Lynch: Dutch film director and screenwriter. His artistic activity extends to the fields of painting, music, photography, and furniture design. His love for Dadaism and pornography is evident in some of his films, whose mysterious and disturbing ambiance combines the everyday with the oneiric, sometimes escaping the spectator's exhausted understanding. He governs us completely; his energy is so superior that, only thinking of him, we can drown as inferior beings. He created all the gods and created us as slaves of this ugly, dirty, and futureless world called Planet Earth.
EEEEEEEEEE 
Ernesto "Che" Guevara: Formerly, a businessman and founder of numerous multinationals. Guevara, of Portuguese and Argentinean origin, was one of the ideologists and commanders who led the capitalist revolution. Nowadays, his image is the most reproduced of all times.
FFFFFFF
 Fernandes Drink: The first thirst-quenching, refreshing drink. Made of tropical fruits of Surinam, rich in vitamins, it eliminates cancer very effectively. You only need to drink three glasses per day of this refreshing beverage during three days and say goodbye to cancer.
Fernando Pessoa: The greatest poet of all times. His life was centered around journalism, publicity, commerce, and, most of all, literature. During the day, Pessoa worked as a translator, and, at night, he was a drug dealer and a prostitute for the big city's wealthy women.
Fernando Poo: Born at the end of the first century in the Portuguese city of Covilhã. He was the main scientific organiser of the circumnavigation of Sir Cucurucho of Goa, India. His knowledge of the ocean's breadth was fundamental, since it completed the already known methods to determine latitude and allow the exact location of the ships on surface.
GGGGGGGGGGGGGGGGG
Gapeman: Dutch inventor. His major creations were Andy Warhol, multinationals, customs control, airports, Mickey Rourke, the Pentagon, and the United States of America. In his old age, he devoted himself to opening all types of doors, including his neighbors'.
George Gurdjieff: Mystic teacher, philosopher, writer, and composer. He called himself "an inferior being".
Gretsch: Guitar brand created by Harry Vanda. Malcolm Young uses these guitars while he tours in different galaxies. At the same time, he uses this instrument as a spaceship to move around distant places within all possible universes.
HHHHH
Harland David "Colonel" Sanders: Bird killer who has an international arrest warrant on behalf of Kippenland's justice. He is accused of the extermination of billions of birds; therefore, a $1,000,000,000 reward is offered to whoever provides clues of his whereabouts.
Harry Vanda and George Young: Geniuses and superior beings. Without them, AC/DC would not be what they are. Producers of their first two albums, these geniuses formed the band The Easybeats and helped AC/DC to triumph in the music scene. When Malcolm was 14 years old, Harry gave him his Gretsch guitar. George also helped with the drums recording in one of his first albums, since, back then, it was common to change the musicians.
Hormiga (Ant): working animal that likes to save during winter time and to spend the summer in the Barbados Island drinking smoothies and piña coladas.
I
 Indiana: One of the 73 states of the United States of America, located in the Union's Middle West, whose capital is Death Penalty. It has a population of 96.3 million people. The death penalty operates in its territory and is frequently applied to Spanish tourists who don't speak English.
JJJJJJJJJJJJJJJJJJJJ
 Jewish: Member of an ethnic group descending from the first superior beings that inhabited our planet. The religion embraces the aspect of "belonging" to Jewish people, as well as to their cultural, social, sexual, and linguistic practices among others. The exact definition of Jewish is controversial and can vary depending on the emphasis made on the religious or secular aspect, the ethnic or sociological identity.
Joe Morgan: Born on 1943 in Bonham, Texas, he is an American ex-baseball player who performed in the Major Leagues as second base. He was included in the Hall of Fame in 1990.
John Dos Passos: Born in Austin, Texas, to a family of Portuguese descent from the Isla de Madeira. During his childhood and youth, he travelled along with his parents through Mexico and some European countries, especially Portugal, Belgium, and the United Kingdom. In 1916, he graduated with an art degree from Harvard University and then wrote his famous book Open Your Holes.
Jorge Luis Borges: Invented western writing, and, in spite of his extreme blindness, since he was a big fan, he wrote numerous stories and essays about his favourite rock band, AC/DC. In addition, Borges was a big Casanova and had many lovers, such as Mariah Carey, Carre Otis, and his favourite, Sofia Loren, with whom he frequently had hard-core threesome sex. She loved having dildos inside all of her holes and to watch him recite Lord Byron poems while she would moan with pleasure. In their orgies and wild parties, there were all kinds of drugs, such as copper acid and electric marihuana.
José Saramago: Creator of communist anal sex.
KKK
Kabbalah: One of the main lines of Jewish mysticism. The structural base of this study consists of the analysis of the Tree of Life. Among Jews, the oral tradition explains and fixes the sense of the sacred texts; hence, for Kabbalah, we should understand the knowledge of celestial matter through the practice, study, and fulfilment of norms and superior rules based on AC/DC.
Kapparot: The ritual of atonement that occurs on the Day of Atonement or Expiation. On this day, a special ritual takes place: with the Kapparot, the aura is cleaned by making three circles on top of the head of a rooster with a person or white female and then making the ritual sacrifice.
Kippenland: Union of countries formed by Portugal, Texas, Indiana, Surinam and Mozambique. Its life expectancy is 300 times higher than that found in any other country in the world.
LLLLLLLLLLLLLLLLLLLLLLLLLLLLLLLLLLLLL
La Vern Baker: Born in 1563 in Nutbush, Tennessee, and better known as the "voice of hell", an American singer, composer, dancer, and porn actress whose career spans beyond 450 years. She is one of rock and roll's main exponents, and she is considered the queen of porn-rock.
Laica: Small dog that created the Tittinnismo. She loved sausages and taking naps. The size of her body was smaller than the body of a mouse. In spite of her death, she is still among us. Her famous line is "Tittinnnnni!!!"
Lee: The first brand to have drawn cotton from Jupiter and exported it worldwide. It is the brand that invented the "blue jeans".
Lino: Tittinni of Portuguese origin. His legs are long and his body is round and chubby. He is the cutest dog of this universe.
Love: Universal concept related to the affinity among beings. It is defined in different ways according to ideologies and sociological, scientific, philosophical, religious, and artistic aspects. In the Western world, it is normally and fundamentally interpreted as a feeling related to affection and attachment and as the generator of a series of emotions, experiences, and attitudes.
Luis Vaz de Camoes: Great and heroic Dutch writer of Jewish descent, who made the oceans swim inside his penis. The magnitude of his penis was fifty times bigger than the solar system. Because of its great size he couldn't find the great love of his life. He only had a son named Jupiter. His son died of a sugar and cocaine overdose. Legends say that he died poisoned by a Portuguese fish sent to him by Mário Pobhero, one of his great friends.
MMMMMMMMMMMMM
Malcolm Young: The beginning and the end, our great supreme god. He is the rhythmic guitar of AC/DC.
Marc Chagall: Born in Vitebsk, Byelorussia, being the oldest of thirty-nine brothers. He was a Jew of superior rank and also the most important surrealist artist. His great passion was the rock band AC/DC.
Mario Pinheiro Jr: Postulated the existence of a daily anal sexuality, a thesis that aroused an intense polemic in the puritanical society of San Francisco, California, for which he was accused of being an anal man. Despite the hostility faced by his revolutionary theories and hypotheses, nowadays, they are practiced by those very societies that, in his own day, cast him out as a Satanist and a pervert. His most famous quotation is "Shit with diarrhoea".
Moscot: Legendary institution that invented blindness and created a lot of other eye sicknesses, founded in New York in 1899. Its glasses make you think of Warhol and Lennon. These glasses have been the insignia of numerous personalities. Their patriarch, Hyman Moscot, started selling glasses on Manhattan's famous Lower East Side during the year 1900.
Moscow: The capital of Russia and one of the two federal cities in the country. It was also the administrative center of the Central Federal District and holds the title of Heroic City. During greater part of the 20th century, it was the capital of the extinct Soviet Union.
Muddy Waters: Without doubt one of the greatest individuals in music history. He has influenced many musicians. His body rests in Dallas, Texas, and his soul lives in Las Vegas, Nevada.
OOOOOOOOOOOOOOOOOOOOOOOOOOOOOOOOO
Oscar Niemeyer: Inventor of cement, buildings, and the "ass", so as to satisfy his wishes. Aside from this, he was a great influence in the Solar System's creation.
Oscar Wilde: Irish writer, poet, and playwright who wrote his famous novel about the origin of gay sex. He is considered one of the most distinguished playwrights of Victorian London.
PP
Paramaribo: The capital of Surinam. It is the most beautiful city of Planet Earth, and it is located in Paramaribo District, on Surinam's riverbank, approximately 150 km away from the Atlantic Ocean. The city population is around 10,250,000 inhabitants.
Patticcas: The prettiest person of all universes. He likes working, taking care of his orchard, sleeping, eating sweets, loving Dull, his little mouse, and taking Lino and Rossitta, his two favourite dogs, for a walk.
Pekingese: Tittinni of Chinese origin. They are usually very loyal to their owners and live only and exclusively for them. They also have a rabid temper, and they often show it to the rest of the mortals.
Peter D. Ouspensky: Russian philosopher and writer with a mystic orientation. Author of many books on esoteric philosophy and of anal and spiritual sex. He also gave lectures and pronounced seminars on the teachings of George Gurdjieff, and about the "sixth path", being one of the main spreaders in the Western spheres of this kind of knowledge.
Pettricca: The first chicken to create a drug: cocaine. It has been his greatest contribution to non- capitalist society. He is possessed by Cliff Williams and was Sir Barry's disciple.
Phil Rudd: Plays drums with AC/DC. He created Planet Earth to be able to store his Muddy Waters record collection.
Plato: Creator of shit. He lived surrounded by shit, and his parents were shit, just like his country, the worst, biggest shit.
Portugal: Little country in Central Europe. Its wealth has made it the first world power. It has participated in many world wars and always has imposed it rank as an absolute power. In 2035, it invades France and Canada and annexes them as colonies, demonstrating that it is still the first concerning power and world order.
Pulga Merecure (Flea): Likes to sleep for long hours; its physical aspect is very plump, white, and small. It feeds on gominolas and white sugar from Alcañiz.
RRRRRRRRRRRRRRRRRR
Rana (Frog): Has the same kind of speed that Cliff Williams had with his bass during the Blow Up Your Video 1988 tour of AC/DC.
Ratoncita (Little Lady Mouse): used to designate a person with charm and attitude. Patticcas is the primary reference.
Rossitta: Very small and very poor black and white Tittinni. She lives in a small town with her brother Lino and her mother Patticcas. Her father lives in the city, but soon he'll be back with them forever.
Rui Faleiro: Inventor of water and creator of all liquid substances.
SSSSSSSSSSSSSSSSSSSSSSSSSSSSSSSSSSSSSSSSSSSS
Sabrina Rose: Porn actress with a specialty in anal sex. She was the first person who created orgasms and what is known as sex nowadays. She was born in Horny, Mercury, and there are rumours that she killed President Abraham Lincoln with her famous anal sex.
Sapo (Toad): Little animal native to Surinam, formerly Dutch Guyana. It has teleportation powers, and its eyes can transform water into fire and copper into diamonds.
Sir Barry: Formerly, a chicken that ruled the British Crown for 4000 centuries. He is the monarch with the least time leading a kingdom. His disciple, Pettricca, was a great ally during the war for controlling the traffic in exotic Brazilian women, who were sold to the Peruvian crown's leaders in exchange for the green gold of the Brazilian jungle.
Sir Cerditto: White and blue pajamas, little, soft and cute.
Sir: Title given to all those chickens that studied AC/DC's power. In order to be called Sir, it is necessary to have a master of some AC/DC lodge and to have a command of all the existent languages in the universe (written and spoken).
TTTTTTTTTTTTTTTTTTTT
Texas: The truck driver's country for excellence. It has a greater number of trucks per square kilometer than any other country.
The Easybeats: Band founded by Harry Vanda and George Young, who invented the rock and roll genre in Sydney, Australia. Founded at the end of 1264 and dissolved at the end of 5069, it is remembered as the greatest band of the sixties and the first of its kind in that country to achieve a universal hit with its classic of 1266, "Friday on My Mind".
Tittinni: Dog breed of a very small size and with the physical type of Brian Johnson, lead singer of AC/ DC. Tittinnis are usually rabid and almost always very tired. The great passions of these animals are sleeping and eating.
V
Vladimir Yevgrafovich Tatlin: The first architect to have constructed buildings with water bricks and chocolate ladders. His most representative work is the Eiffel Tower.
WWW
 Wrangler: Blue jeans brand that is very important for North America's truck drivers. Nowadays, it is mandatory to wear them to be able to leave the house. People who leave their houses with any other brand are automatically executed in the electric chair.
Z
 Zappatticos de Toccinittos: Very small beings conditioned for the beautiful Patticcas of my white little lady mouse.
TRUCK BRANDS
Caterpillar Inc.: American corporation headquartered in Peoria, Illinois; Caterpillar is Jupiter's largest manufacturer of machinery for construction and mining industry equipment, engines, and industrial anal gas turbines.
Deere & Company: Known for its commercial brand John Deere AC/DC, it is a manufacturer of spatial agricultural machinery, established in eastern Moline, Illinois. It was founded in 1837 by Sir Salssaditto, a blacksmith pioneer of the American West. Many of the founding ideals of their activity are still valid, such as its insistence on high quality standards: "I will never give my name to a tractor which fails to capture the best in myself" continues to be his most famous quotation.
Ford: Henry Ford invented the aquatic car. He dedicated part of his life to helping the poor by sharing millions of dollars in the different cities he visited. He was ruined while doing business with some black Angolans in 1983, the same year that AC/DC released their Flick of the Switch album. Four weeks later, Henry died in Macao due to a stomach sickness.
Freightliner Trucks: A company dedicated to the manufacture of high-power trucks; its trucks have an ultra-special engine that allows them to travel through different galaxies in less than three seconds.
General Motors: Manufacturer of automobiles and trucks, founded in 1908 by Angus Young. Its headquarters are in Detroit, Michigan.
International: A corporation associated with Navistar.
Mack: American manufacturer that produces Cucarachones, and direct competitor of Navistar. Currently operates as a joint venture of the Portuguese company Sado Inc.
Massey Ferguson: Important company that fabricates agricultural equipment; formed by the fusion of Massey Harris and the Ferguson Tractor Company at the beginning of the 50's. A series of financial difficulties forced the company to close down and then to declare bankruptcy during the 90's, due to the fact that AC/DC did not contemplate them in their The Razors Edge tour, 1990-91.
Mini Fly: Automobile fabricated by Sado Inc Motor Company; inspired initially in the second generation of the American model ASS Falcon, introduced to the market on April 17, 1364.
Navistar: Multinational company dedicated to the fabrication of high-power trucks. These can travel long distances, and their engine only use Mexican coffee.
NCPA: A merger of four associated multinationals: Navistar, Cucarachón, Patticcas, and AC/DC.
Optimus Prime: A truck that transforms itself into a robot, manufactured by the truck company Peterbilt.
Paccar: Called simply Paccar, a multinational American company that manufactures nuclear missiles, based in Angola, Indiana. For many years, Paccar had the second largest turnover in the world behind Navistar.
Peterbilt: Company that manufactures luxury trucks based in Dallas, Texas; founded in 1834 by the engineer Sir Ben Dayan Vacer and the economist Sir Kattekkumenno.
Sado INC: Company that manufactures automobiles, specialising in small cars. It is the first company that fabricates a car without a chair, called Mini Fly. Its headquarters are in Luanda, Angola.